as biology coursework snab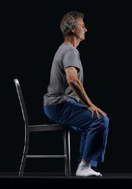 Tip #1: Moving from sitting to standing is only part of a full range of movement that allows you to go from squatting to standing and jumping. Sit in the middle of your chair and jump your pelvis forward and back on your chair without using your hands. Then, before you stand up, think that you're going to jump. Don't actually jump—just feel the act of standing from a chair on the way to jumping. It should be a feeling of lightening the load.
web opzione binarie anyop see Tip #2: Go for a practice walk, either in your house or outdoors. Practice aiming your knees in the direction you're going. For instance, aim your knees toward a door on the other side of the room. If you see a tree down the street, aim your knees at the tree. As you begin your walking motion by first bending your knee, you'll find that your hips move more and your feet lift more. It should feel a little bit like marching.