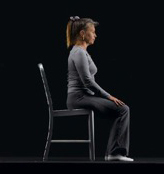 TIP #1: Sit in the middle of a chair with your feet directly under your knees. Push down through your legs only enough to bounce your pelvis forward, toward the front of the chair, and then backward a little farther, toward the back of the chair.
With your hands on your belly, tilt backward in the chair a little bit until you feel the muscles in your stomach contract. Tilt forward and backward a few times and feel how your stomach muscles engage in support of the belly.
Put your hands on your waist or your stomach to feel how those muscles work as you bounce your pelvis forward and backward.
TIP #2: While standing, can you reach one arm up toward the ceiling or the sky? Look at your hand and keep reaching until you feel your outstretched arm lifting your ribs. Make sure your jaw stays open. Put your arm down and do the same with the other arm. Let the reach occur as if someone were pulling you up higher through that arm. Your heels might come off the floor. Then simply stand and notice how much taller you feel. As you walk, you can always be prepared to reach up and point to the sky.