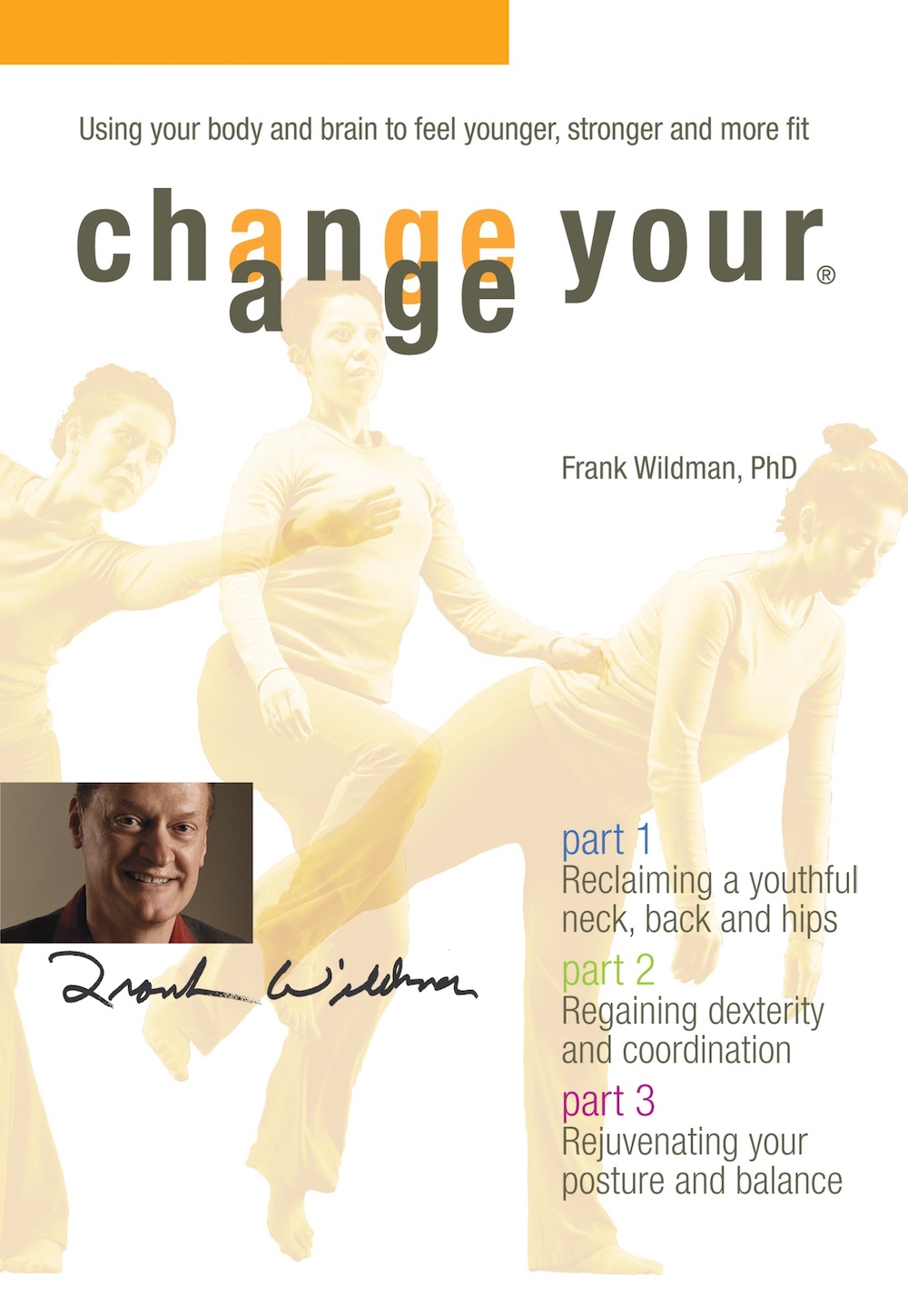 The Change Your Age Program is a powerful, easy-to-follow program that can help you feel years younger by teaching you new ways to move, feel and think.
SALE!

THREE PART VIDEO PROGRAM for $129

Stream the Change Your Age Progam on VIMEO ON DEMAND

The Change Your Age video program, created by Frank Wildman, PhD, is a revolutionary new approach to healthy aging and mind-body fitness for baby boomers.
Based on brain science, this pleasurable movement-based program weaves in cognitive challenges that will help keep both your brain and your body youthful. The Change Your Age video program leverages new and unusual movements to help generate new brain cells.
As infants and children, we learned to move — to reach, crawl, walk, jump, climb — in an exploratory fashion, twisting around as we interact with our environment. Once we learn how to move, most of us stop the exploratory learning that got us moving and lock ourselves into habits of movement. As we age and start to encounter some limitations on our mobility, it is crucial to return to moving like a child and learning in this exploratory, nonlinear fashion. We don't need to avoid linear movement like the ones we often perform at the gym — in fact, many common daily activities are linear movements — but in order to expand the range and repertoire of our movements and feel real pleasure and sensuality in our movements, it is extremely valuable to practice nonlinear and exploratory movements.
Pain, stiffness, fatigue — these are issues that affect us all as we age. But if we reframe how we look at pain, stiffness and fatigue, we can come to understand them as the result of ineffective movement habits.
The brief lessons of the Change Your Age video program teach you how to return to the exploratory, creative movements of your youth, engaging your brain and body to maximize your agility, strength, and vitality as you age. With this program, you can regain the joy of movement.
The Change Your Age Program on video comes in three parts:
Reclaiming a Youthful Neck, Back and Hips

Regaining Dexterity and Coordination

Rejuvenating Your Posture and Balance
Buy the complete Change Your Age Program video program for $129-- a savings of $30!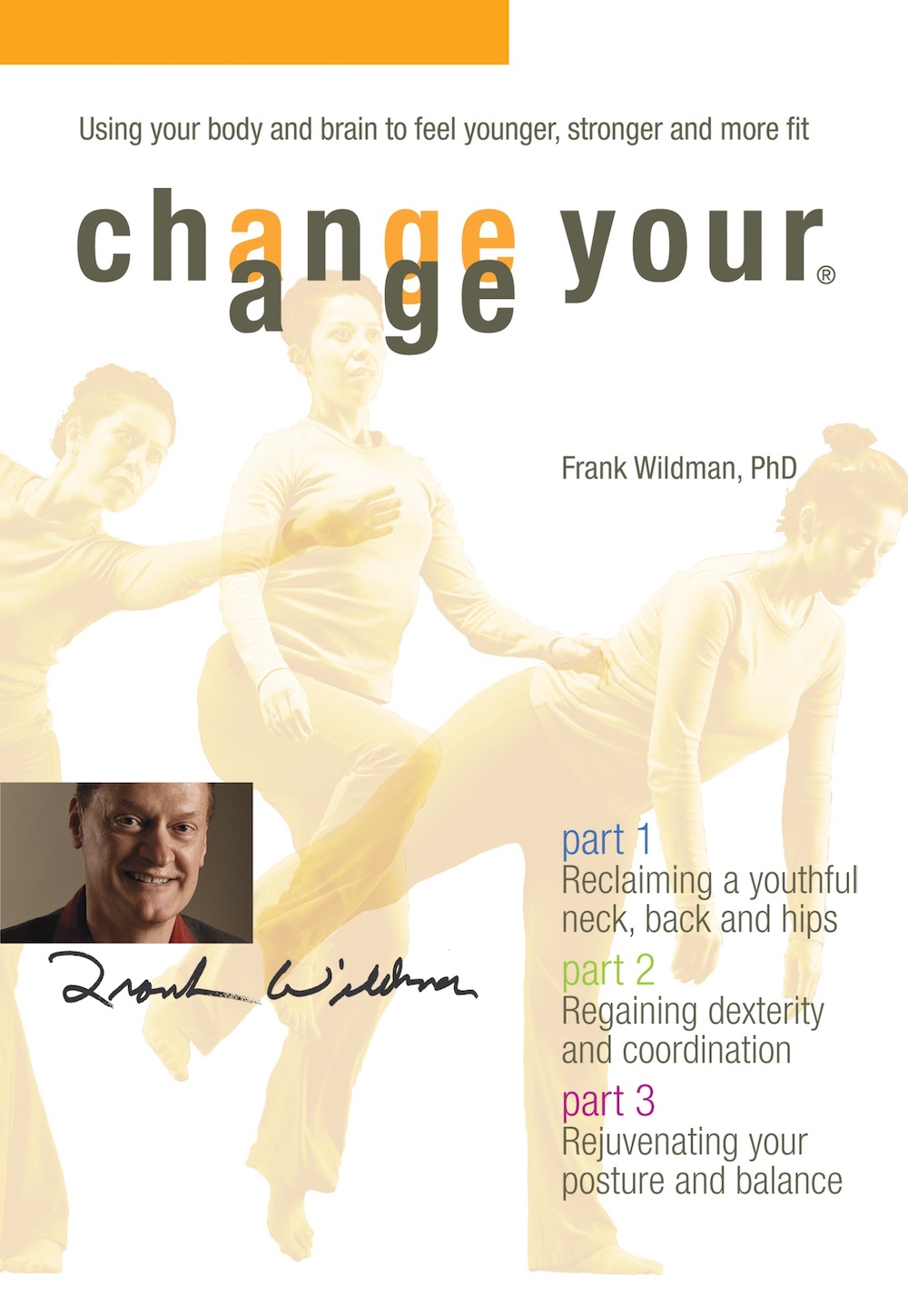 The Change Your Age Program Part 1
PART 1 - RECLAIMING A YOUTHFUL NECK, BACK AND HIPS
Introduction to the Change Your Age Program
What Makes a Person Old? 7:00
The State of the Body Scan (Audio Portion) – 4:05
Using the Floor as a Mirror (Audio Portion) – 9:00
How to Prepare for a Lesson - 4:00
Lesson 1 - Coordinating Neck and Eyes with Your Legs and Pelvis – 17:20
Lesson 2 - Releasing Your Hips into Pleasure – 7:10
Lesson 3 - Using Your Abdomen to Release Your Back - 10:30
Lesson 3a - Advanced Variation – 5:30
Lesson 4 - See Saw Breathing – 9:50
Lesson 5- The Middle of the Body: Expanding, Reaching, Turning – 17:10
Lesson 6 - Crossed Arm, Crossed Ankle, Foot Lifting – 8:00
Lesson 7 - Oiling Your Hips the Easy Way – 9:00
Lesson 7a – Advanced Variation – 2:30

TOTAL RUNNING TIME – 108 minutes
The Change Your Age Program Part 2
PART 2- REGAINING DEXTERITY AND COORDINATION
Lesson 8 - Rolling Into Length Across Your Stomach – 6:20
Talk – The Importance of Orientation and Scanning – 2:35
Lesson 9 - Regaining Full Use of Your Neck – 5:40
Lesson 9a – Advanced Variation A – 3:40
Lesson 9b – Advanced Variation B – 7:10
Lesson 10 - A Simple Rolling Lesson – 9:10
Lesson 10a – Simple Rolling from Side-lying to Sitting – 3:00
Lesson 11 - Through Crouching To Standing – 3:00
Lesson 11a – Advanced Variation – 8:10
Lesson 12 – How to Approach Squatting – 5:00
Lesson 13 – Crouching for Your Life – 3:00
Lesson 14 – Moving from a Chair to the Floor and Returning – 8:00
Lesson 14a – Advanced Variation – 4:30
Lesson 15 – Jump Sitting in a Chair – 4:00
Lesson 15a – Jump Sitting on the Floor – 2:20

TOTAL RUNNING TIME – 80 minutes


The Change Your Age Program Part 3
PART 3- REJUVENATING YOUR POSTURE AND BALANCE

Lesson 16 – "Baby Alligator" – 17:30
Lesson 17 – Finding the Two Halves of Your Body – 6:50
Lesson 18 – Crawling with Knees Up and Down – 2:45
Lesson 18a – Advanced Variation - 4:50
Lesson 19 – Freeing Stiff Hips and Knees – 9:45
Lesson 20 – Improving Balance – 13:10
Lesson 21 – Standing on Highest Point of the Hip – 10:00
Lesson 22 – Jumping to Discover Your Posture – 10:50
Lesson 23 – Hopping for Health – 7:10

Total Running Time – 88 minutes


Stream the Change Your Age program on VIMEO ON DEMAND