Available for sale:
The Active Sitting Program

T
he Active Sitting program, part of the Intelligent Body® series created by Dr. Frank Wildman, offers a fun way to break old habits that can lead to stiffness and pain.
Since we sit for many hours a day, this program will enable you to sit with a sense of mobility, rather than staying locked into a position for too long.
The lessons are based on brain science and are easy to do. Many of them could be practiced effectively in only a few minutes.
Improve your sitting posture
Free yourself from pain and discomfort
Feel more active sitting in your chair
Expand flexibility and mobility while sitting
12 pleasurable lessons anyone can do
With this program, you'll be able to actually increase your flexibility, alter your posture, and become more mobile while sitting at a chair for work, conversation, or watching television or reading.
You might even find the movements in the Active Sitting program to be so unique and engaging that you might find yourself doing them for fun and sharing your new habits with friends.
You'll never look at your chair the same way!
THE ACTIVE SITTING VIDEO PROGRAM NOW AVAILABLE FOR STREAMING AND DOWNLOAD ON VIMEO ON DEMAND
The Embodied Balance Video Program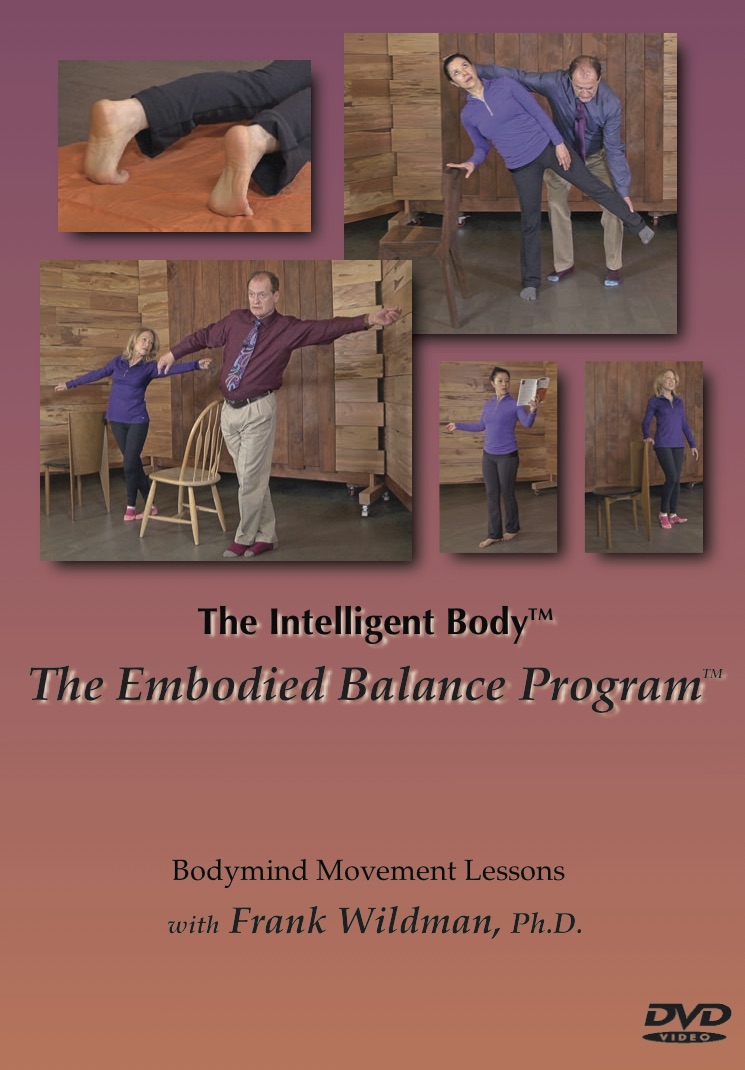 Do you have anxiety about your balance? Perhaps even a fear of falling? Have you tried doing exercises that don't work in the real world?
The Embodied Balance program, part of the Intelligent Body® series created by Dr. Frank Wildman, will help you to feel more secure, especially in slippery, unexpected, or uneven environments.
Over many years of surveying balance programs from around the world, Dr. Wildman has created a series of effective, interesting and fun lessons that develop balance in a variety of fluid and dynamic positions that reflect real world balance issues.
This one-of-a-kind program has been taught in many countries around world, in hospitals and training courses for physical therapists and others.
With this program, you can expect not only better balance, but also the security and inner peace that goes with it.
THE EMBODIED BALANCE VIDEO PROGRAM NOW AVAILABLE FOR STREAMING AND DOWNLOAD ON VIMEO ON DEMAND
The Intelligent Body® Movement Program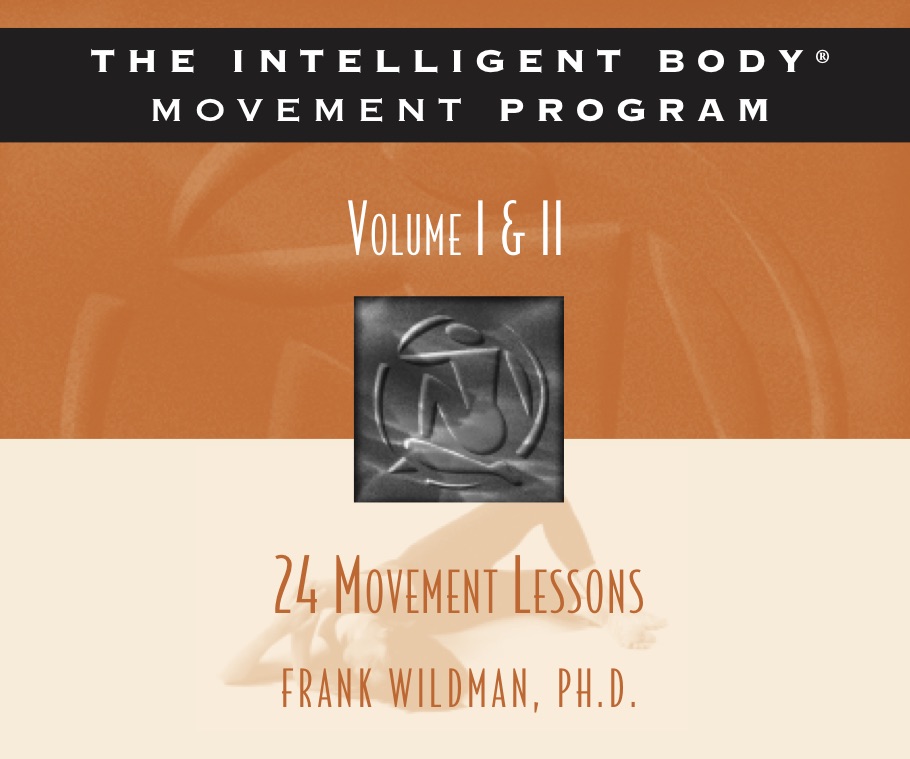 The Intelligent Body® Movement Program includes 24 intriguing movement lessons and is one of the most widely used movement programs in world, integrating modern neuroscience with physical motion. The intention is to improve coordination, balance, posture, dexterity, and suppleness.
You can alleviate your pain by minimizing physiological and psychological stress associated with restricted movement habits. The goal is to improve your physical intelligence and help you enjoy the way your body moves.
Many people have been surprised at how much more easily they could do everything from walk to play a sport after doing this program.
The Intelligent Body Movement Program is inspired by the work of Dr. Moshe Feldenkrais, one of the twentieth century's greatest movement scientists. This worldwide best seller is an intriguing and exciting exploration of movement and learning for people with any level of conditioning. Each lesson is about 45 minutes long.
"I had to wait so many years after Moshe to find somebody who would re-awaken my curiosity: someone who would allow me to search for new ways of thinking. This person was Frank Wildman, a new light in the field of the evolution of movement."
— Michel Silice-Feldenkrais, Director, Feldenkrais Institute, Tel Aviv
"Frank's Intelligent Body is a great all-around set for both the professional and for general use. The exercises are functionally effective, creative, and a pleasure to do."
- Mark Reese, Ph.D.
"Frank Wildman embodies not only the gentleness of this new learning method, he reflects the excitement in the discovery of freedom."
— Carol M. Davis, Associate Professor, University of Miami School of Medicine
NOW AVAILABLE FOR STREAMING AND DOWNLOAD ON SOUNDWISE!
INDIVIDUAL LESSONS ALSO AVAILABLE
Volume 1
The Busy Person's Guide to Easier Movement
Originally published in Germany, The Busy Person's Guide to Easier Movement, quickly became a best-seller and has subsequently been published all over the world. This indispensable, portable book will provide common-sense lessons connecting the mind and body through movement. Dr. Wildman's book challenges you to move smarter instead of harder. Whether you are a "couch potato" or an athlete, you can use The Busy Person's Guide to avoid unnecessary pain and discomfort in your everyday movement.
Dr. Wildman has written a very "user friendly" text presenting 50 simple and practical lessons to help the young, elderly, healthy, and those in pain learn how to function better in life. These lessons can be done quickly without equipment in the home, at work, or even when traveling. -Sandy L. Burkhardt, PhD, Physical Therapist, Boca Raton, FL
Muscle tension and stress lead to muscle aching and pains. If you wish to avoid or treat these symptoms in a natural, healthy, and non-medication way, this book is for you. Dr. Frank Wildman is a master teacher. Highly recommended!
-Paul Davidson, MD, Medical Director, Fibromyalgia Clinic, Kentfield, CA
THE BUSY PERSON'S GUIDE IS AVAILABLE ON AMAZON
The TMJ Program
The TMJ Program
includes 6 lessons, each 10 minutes in length. The Program uses a unique understanding of human neurology to reduce chronic tension in the jaw, face, neck, and upper back, and to reverse long-standing movement habits responsible for the original TMJ symptoms. The lessons are gentle and easy to do. Reduce postural stress in the head, neck, and shoulders, and eliminate frequently occuring headaches.
TMJ symptoms can disappear within days of using these exercises. This program offers an ideal first step in the treatment of this condition. In most cases, it will eliminate the need for further measures, and if additional medical intervention is needed, your new movement patterns will increase the chances of treatment success.
The TMJ program was an "Aha" moment in my life. I had suffered from really bad headaches and migraines for years and had used every known therapy and cure to help but to no avail. When I used the TMJ Intelligent Body lessons, I experienced enormous relief and since then no more headaches. -O-sel Nyima
Definitely improved my TMJ symptoms. At first I used it about 5 times a week for about 2 months. Now I use the movements I learned whenever I feel my jaw tighten. I use the lessons before and after going to the dentist – he has used Dr. Wildman's program himself. -Marcia Clark
This is much easier to do than get $6,000 worth of braces or dental work. -Frances Delucia
THE TMJ PROGRAM NOW AVAILABLE FOR STREAMING AND DOWNLOAD ON SOUNDWISE!
Dealing with Back Pain
After many years of helping patients with back pain, Dr. Frank Wildman created a Back Care Program for the University of California that has proven beneficial to thousands of back patients and is used in clinics worldwide. Dealing with Back Pain is your home back care program.
Moving from Pain into Pleasure
As a member of the Fibromyalgia council, Dr. Frank Wildman created Moving from Pain into Pleasure, six innovative ten minute lessons proven effective in restoring pleasurable movement to thousands suffering from Fibromyalgia and chronic pain.
Better Driving
The Better Driving Program will help you find your optimal driving position to take pressure off your lower back, shoulders, and neck. Maintain alertness; increase respiration and peripheral vision while driving.
Improving with Age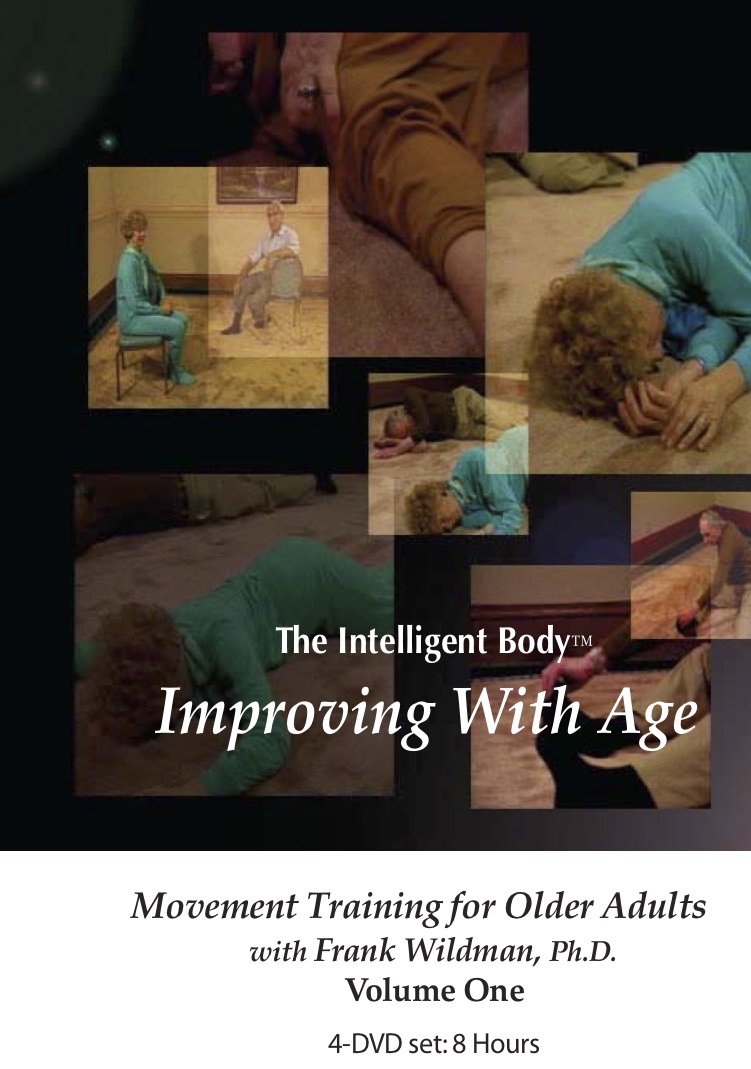 The older we get, the more clever we must become. As we age, it becomes more important than ever to use our bodies more efficiently. We must improve our ease of motion, our coordination, our sense of balance, control, and comfort. After a certain age, our bodily wisdom tells us it's too difficult to slam our bones, strain our muscles, and do the things we used to do with will power and brute strength. However, there is little available in our culture to help us learn to reduce stress while increasing muscular efficiency in a pleasurable and comfortable manner. The Improving with Age Program DVD presents an alternative to pain, stiffness, and restricted movement.