UNDER CONSTRUCTION! Welcome to the Change Your Age Mobility Survey! UNDER CONSTRUCTION!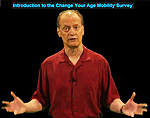 In this survey, you will discover your true Mobility Age. This will help you evaluate whether you move older for your age, younger for your age, and motivate you to look and feel younger.
The point of this survey is to understand how you can help yourself to change your age and move more youthfully. It is not to push yourself to do something you can't do.

The Survey should take about 15-20 minutes to complete. At the end of the survey, you will be presented with a results page, on which you will see your real age as well as your estimated Mobility Age as determined by your responses to the survey questions. You will also be given a measure of your responses in four primary categories that the survey evaluates about your mobility.

We appreciate your answering as honestly as possible the following questions. All of your information will be held in the strictest confidence and not shared with anyone without your permission.
Click here to take our Change Your Age Mobility Survey. ***WE ARE CURRENTLY REVISING THE MOBILITY SURVEY-- PLEASE COME BACK SOON TO TAKE THE NEW AND IMPROVED SURVEY.***

Thank you for your time.
For more movement lessons, tips and helpful routines, buy the Book and the DVD's.

The Change Your Age Mobility Survey is based on the work of Dr. Frank Wildman and the Change Your Age team, including Dr. Sanford Rosenberg and Dr. Benjamin Rosenberg. Dr. Wildman's new program, Change Your Age, has been published in book form by Da Capo Press Lifelong Books and is available through Amazon. Change Your Age workshops are now being taught in major cities throughout the United States. The Change Your Age program is also available on DVD.